IIPE Recruitment 2020: Get Latest Notification for IIPE Visakhapatnam Career Vacancies 2020. Find Upcoming Jobs in IIPE Recruitment 2020. Find Employment Job Alert for Indian Institute of Petroleum & Energy, AP government. Get Career News for IIPE Visakhapatnam Recruitment 2020-21.
Current vacancies in IIPE Visakhapatnam/Vizag:
Librarian, Deputy Librarian, Officer IT (Network Administrator), Officer IT (System Administrator), Officer IT (ERP & Web Services, Senior Superintendent, Secretary to Registrar, Guest House manager, Technician (Chemical/ Petroleum/ Mechanical), Technical Assistant (General), Technical Assistant (Academics), Technical Assistant (Administration), Technical Assistant (Accounts), Technical Assistant (Procurement), Lab Assistant
(Chemical, Petroleum, Mechanical & Geology.
IIPE Recruitment 2020- Apply Online for Jobs in Indian Institute of Petroleum and Energy @ www.iipe.ac.in
This Job Notification is being published for the candidates who are awaiting to Apply Online for Institute Jobs in Andhra Pradesh State Government. You can get here direct official notification, Application Form and PDF links for applying for the Job Vacancies for IIPE Visakhapatnam Recruitment. Apart from the IIPE Recruitment , you can get here official Notification updates for other government Departments in Andhra Pradesh State for the year 2020-21.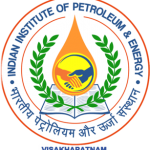 Apply here for Careers and Jobs in IIPE: Indian Institute of Petroleum and Energy, Visakhapatnam. Apply for AP State Government Jobs for 10th, 12th pass, Graduate/Graduation, Diploma/Degree holders, B.E/Btech/M.Tech, MCA, MBBS, B.Sc, M.Sc, B.Com, M.Com, Post Graduation (PG), and PhD Degree holders.
Visit here for the Latest and Current Govt Notifications for Institute Jobs in AP State.
IIPE invites applications for the following non-faculty positions, and all the positions carry scales of pay at appropriate levels of 7th Central Pay Commission of the Government of India, as applicable to all the IITs.
IIPE Recruitment 2020 for Latest Non Teaching Staff (NTS) Jobs: Apply Online (30 Vacancies)
Employment Number#: ADVT NO. IIPE/NTS/01/2020-21, JUNE2020
Indian Institute of Petroleum and Energy (IIPE) had released a notification for NTS recruitment for Non Teaching Staff posts for various positions in Group A and Group B categories. All the vacancies required a certain work experience as mentioned below in details in the notification. There is reservation as well for SC/ST, OBC, and EWS (Economically Weaker Section) categories.
Total vacancies =30. Reserved=13 and UR (Unreserved)=17.
Interested and eligible candidates read all of the details carefully and apply for the vacancies in this renowned institute which is located in Vizag (A.P). IIPE is an Institute of National Importance.
IIPE Non Teaching Vacancy Details: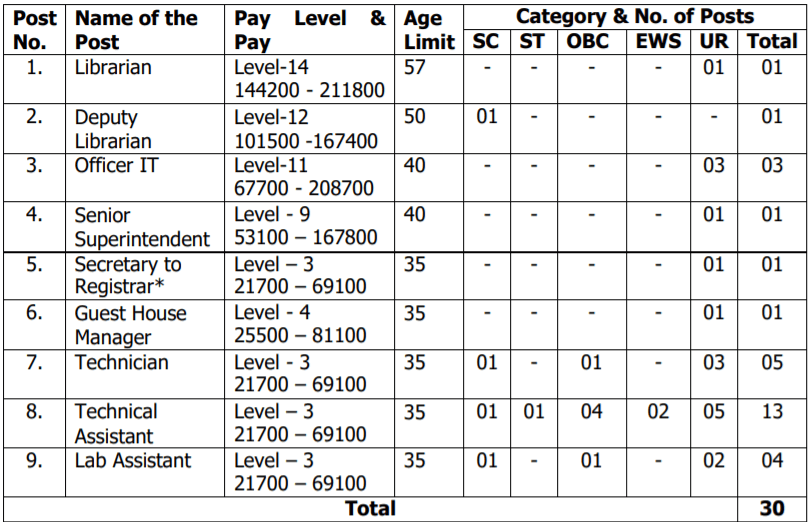 Essential Qualification and Eligibility Criteria for NTS Recruitment in IIPE:
Librarian
Essential: a) Master's Degree in Library Science/Information Science/ Documentation Science, with at least Second Class in qualifying degree and 18 years of experience as Librarian or Asst Librarian or b) at least 13 years of experience as a Deputy Librarian in pay level 12 or equivalent scale in the library under CFTI/University or autonomous organizations on computerizing library activities, and c) Evidence of innovative library services, including integration of ICT in a library.
Desirable: a) Post Graduate Diploma in computer applications in library or PGDCA from a recognized university or Institute. b) First class or equivalent grade in all university level degrees in respective discipline with a consistently good academic record c) PhD in Library Science is desirable.Pay Level & Pay: Level-14 (144200 – 211800)
Deputy Librarian

Essential: a) Master's Degree in Library Science/Information Science/ Documentation Science or an equivalent professional degree, with at least Second Class in qualifying degree and b) at least 5 years of professional experience as a Assistant Librarian in pay level 10 or equivalent scale in a Library under
CFTI/State/ Autonomous or statuary
organization/PSU/University or recognized research or educational Institution.
Desirable: a) PG Diploma in Library Automation and Networking or PGDCA or equivalent. or b) Post Graduate Diploma in computer applications in library or PGDCA
c) First class or equivalent grade in all university level degrees in respective discipline with a consistently good academic
record. d) PhD in Library Science is desirable.

Pay Level & Pay: (Level-12 101500 -167400)

Officer IT
(Network Administrator)

Essential: a) B.Tech/BE/ MTech / ME /MCA from a reputed University with at least Second Class in qualifying degree b) at
least 10 years of service out of which at least 06 years of hands-on experience on network/cloud administration / architect /security activities, and c) CCNA /CCDA /CCNP/ CCIE/CCDE/CCAR certification from Cisco. Hands on working experience in design, operation, and maintenance of large wired/wireless networks. Must have good background in installing, configuring, and maintaining basic network equipment's such as switches, routers, and access points. Working knowledge of network security
infrastructure and network management systems. Strong troubleshooting skills.
Desirable: First class or equivalent grade in all university level degrees in respective discipline with a consistently good academic record.

Pay Level & Pay: (Level-11
67700 – 208700)

Officer IT
(System Administrator)

Essential:

a) B. Tech/ BE/ MTech/ME/ MCA from a reputed University with at least Second Class in qualifying degree b) at
least 10 years of service out of which at least 06 years of hands-on experience in system administration of Linux and Windows based systems and experience in installation,
operation, and maintenance of large computing environments. Experience in working with one or more of centralized /networked storage systems, centralized /networked backup services, mail servers,
DNS/DHCP/Proxy servers, antivirus and other security software etc. Strong troubleshooting skills.


Desirable:

First class or equivalent grade in all university level degrees in respective discipline with a consistently good academic record.Pay Level & Pay: (Level-11
67700 – 208700)
Officer IT
(ERP & Web Services)

Essential:

a)B. Tech/ BE/ MTech /ME /MCA from a reputed University with at least Second Class in qualifying degree b) at
least 10 years of service out of which at least 06 years of experience in the following: MVC framework, Web development framework (like Spring), PHP, Java technologies, J2EE technologies especially JSP, JDBC, HTML5, JSON, Java script front end framework like jQuery. Web service tools and XML. Database design and development for efficient online transaction processing environment using RDBMSs like
Postgres SQL, etc. System and database administration. Communication protocols like TCP/IP and HTTP. Software development processes including various like-cycle models. UML, system and class design, development, testing and maintenance of software systems.

c) Experience on development and maintenance of ERP in 

reputed educational institutions.

Desirable:

First class or equivalent grade in all university level degrees in respective discipline with a consistently good academic record.Pay Level & Pay: (Level-11
67700 – 208700)
Senior Superintendent

Essential: a) Post Graduate or Management Graduate degree in a discipline of relevance to Public Administration/ Management/ Accounting/ HR and similar areas with at least Second Class in qualifying degree. b) A minimum of 10 years of total experience out of which 3 years' experience as office
superintendent in office management, estate management/ HR/ and other related areas of similar capacity in a Higher Educational Institute/ reputed University.
Desirable: a) Outstanding skills of  drafting b) Computer Applications c) Spoken Knowledge of Hindi, English & Telugu. d) First class or equivalent grade in all university level degrees in respective discipline with a consistently good academic
record e) Knowledge in Short Hand writing.

Pay Level & Pay: (Level – 9
53100 – 167800)

Secretary to Registrar

Essential:

a) Bachelor's Degree/ PG Degree in any discipline from recognized university with at least Second Class in qualifying degree.b) A minimum of 5 years of experience out of which at least 02 years of relevant experience in personal secretarial profession reporting to the highest office at the helm of affairs either in a large-scale industry or in a reputed university and / or Professional or Larger Educational Institute
c) English Type writing Higher Grade with a speed of 50 wpm and exam plenary knowledge of Stenography (d) Knowledge
of Computer Applications.


Desirable:

a) Candidates having Diploma in Public Relations/ Journalism/ HR will be given preference. b) First class or equivalent grade in all university level degrees in respective discipline with a consistently good academic record c) Knowledge in Short Hand writing.Pay Level & Pay: (Level – 3
21700 – 69100)
Guest House Manager

Essential:

a) Bachelor's Degree/ PG Degree in Hospitality/Hotel/Catering Management with at least Second Class in qualifying degree, and b) A minimum of 8 years of experience out of which at least 3 years of experience in hotels/hostels of Educational Institution/Guest Houses of Public Sector Undertaking/ Government Organization, etc.


Desirable:

a) Fluency in English, both speaking and writing and b) Proficiency in the use of MS Office (MS Word, Excel,
Power-point). b) First class or equivalent grade in all university level degrees in respective discipline with a consistently good academic record.Pay Level & Pay: (Level – 4
25500 – 81100)
Technician
(Chemical/ Petroleum/
Mechanical)

Essential:

B.E./ B. Tech./ 03 years Diploma in Engineering in relevant subject from a recognized University with at least Second Classing qualifying degree. b) A minimum of 5 years of experience out of which at least 2 years of relevant work experience in Laboratories of teaching/ research Institutes or Organizations.c) Proficiency in the use of variety of computer office applications, M.S Word, Excel, Power-point or equivalent.


Desirable:

a) First class or equivalent grade in all university level degrees in respective discipline with a consistently good academic record.Pay Level & Pay: (Level – 3
21700 – 69100)
Technical Assistant
(General)

Essential:

Bachelor's Degree/ PG Degree in any discipline from recognized university with at least Second Class in qualifying degree. b) A minimum 5 years of experience out of which 02 Years relevant experience in handling administrative matters. c) Proficiency in the use of variety of computer office applications, M.S Word, Excel, Power-point or equivalent is a must. d) Having typing speed of 35 w.p.m. in English on
computer.


Desirable:

a) First class or equivalent grade in all university level degrees in respective discipline with a consistently good academic record. b) Candidates having MBA (HR) will be given preference. C) Knowledge in Short Hand writing.Pay Level & Pay: (Level – 3
21700 – 69100)
Technical Assistant
(Academics)

Essential:

Bachelor's Degree/ PG Degree in any discipline from recognized university with at least Second Class in qualifying degree. b) A minimum of 5 years of experience out of which 02 Years relevant experience in handling the following
matters: -(a) Handling grades and maintain the records of students
(b) Various activities for conducting major examinations.
(c) Registration of students onto maintain personal files.
(d) Checking of errors at the time of graduating the students.
(e) Statistics of graduate students.
(f) Arrangement of parent-teacher meeting.
c) Proficiency in the use of variety of computer office applications, M.S Word, Excel, Power-point or equivalent is a
must. d) Having typing speed of 35 w.p.m. in English on computer.


Desirable:

a) First class or equivalent grade in all university level degrees in respective discipline with a consistently good academic record b) Candidates having MBA (HR) will be given preference. c) Knowledge in Short Hand writing.Pay Level & Pay: (Level – 3
21700 – 69100)
Technical Assistant
(Administration)

Essential:

Bachelor's Degree/ PG Degree in any discipline from recognized university with at least Second Class in qualifying degree. b) A minimum of 5 years of experience out of which 02 Years relevant experience in handling administrative/ establishment/ recruitment/ NPS/ Insurance/ scholarships/ dispatch / disciplinary proceedings/ SR & FR c)
Proficiency in the use of variety of computer office applications, M.S Word, Excel, Power-point or equivalent is a must. d) Having typing speed of 35 w.p.m. in English on
computer.


Desirable:

a) First class or equivalent grade in all university level degrees in respective discipline with a consistently good academic record b) Candidates having MBA (HR) will be given preference. d) Knowledge in Short Hand writing.Pay Level & Pay: (Level – 3
21700 – 69100)
Technical Assistant
(Accounts)

Essential:

a) B. Com/ M. Com or equivalent qualification from recognized university with at least Second Class in the qualifying degree. b) A minimum of 5 years of experience out of which 02 Years relevant experience in Finance / Accounts.
Exposure and knowledge of using accounting software tools. c) Proficiency in Accounting Software like Tally, Pay Roll
Accounting, e-TDS, GFR etc. d) Proficiency in typing in English on computer, and also in the use of a variety of computer office applications, M.S Word, Excel, Power-point or equivalent.


Desirable:

First class or equivalent grade in all university level degrees in respective discipline with a consistently good academic record. Candidate with MBA(Finance)/CA INTER qualified shall be given preference.Pay Level & Pay: (Level – 3
21700 – 69100)
Technical Assistant
(Procurement)

Essential:

Bachelor's Degree/ PG Degree in any discipline from recognized university with at least Second Class in qualifying degree. b) A minimum 5 years of experience out of which 02 Years relevant experience in procurement activities in any Central Govt. Organisation/ reputed Educational
Institute. c) Experience of working on GEM/ CPPP/ e-Wizard and knowledge of GFR d) Proficiency in the use of variety of computer office applications, M.S Word, Excel, Power-point or equivalent is a must. d) Having typing speed of 35 w.p.m. in English on computer.


Desirable:

a) First class or equivalent grade in all university level degrees in respective discipline with a consistently good academic record) Candidates having MBA will be given preference.Pay Level & Pay: (Level – 3
21700 – 69100)
Lab Assistant
(Chemical, Petroleum,
Mechanical & Geology

Essential:

a) 3 years Diploma in Engineering/B. Tech/B.E./ M.Sc. (Geology) in relevant discipline with at least Second Class in qualifying degree. b) A minimum of 5 years of experience out of which at least at least 02 years of relevant work experience in Laboratories of teaching/research Institutes or Organizations.


Desirable:

Proficiency in the use of variety of computer office applications, M.S Word, Excel, Power-point or equivalent.
First class or equivalent grade in all university level degrees in respective discipline with a consistently good academic record.Pay Level & Pay: (Level – 3
21700 – 69100)
Job Notification and Application Form, Online Apply Link for IIPE Recruitment for Non Teaching Staff (NTS) vacancies: